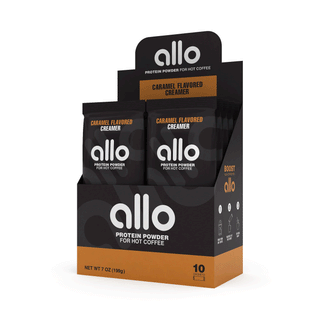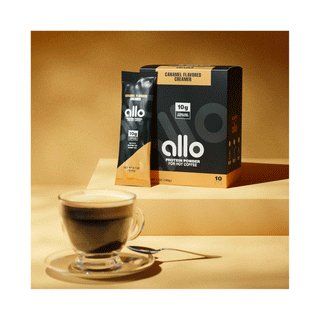 Allo Protein Powder Creamer - Caramel, 10 Packets (200g)
Add a swirl of sweetness and a boost of protein to your hot coffee, espresso, tea, or hot matcha with Allo Caramel Protein Powder Coffee Creamer. With 10g of hydrolyzed whey protein powder, Allo dissolves in your hot beverages without any clumping. Sugar-free and gluten-free, it's a healthy way to get that extra boost of protein throughout your day-to-day.

What Makes Allo Special
Allo is the only premium hydrolyzed protein powder that is thermostable which allows it to deliver and perform in high heat applications, while other protein powders cannot do this.

Allo uses the cleanest and best ingredients such as hydrolyzed whey protein powder, which means it has been ultra filtered and purified to deliver the cleanest, and fastest absorbing protein for muscle recovery, digestion and nutrient intake.
Ingredients: Hydrolyzed Whey Protein Concentrate, Sunflower Oil Coffee Whitener (Sunflower Oil, Corn Syrup Solids, Sodium Caseinate, Mono and Diglycerides, Dipotassium Phosphate, Tocopherols, Tricalcium Phosphate, Soya Lecithin), Natural Flavours, Soya Lecithin,  Stevia Leaf Extract

Contains: Milk, Soy
Add To Wishlist