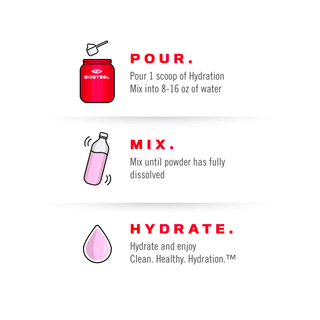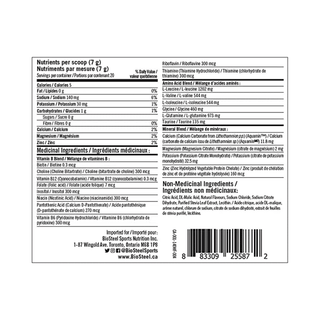 BioSteel Hydration Mix Fruitropolis, 140g (20 Servings)
BioSteel Hydration Mix has been designed in the most natural way possible to help keep you hydrated throughout the day. Our zero sugar formula is made from clean, quality ingredients, and contains no artificial flavours and colours. Added vitamins and minerals help support overall good health and the normal function of your immune system. Simply mix into your water for clean, healthy hydration.
Zero Sugar

Natural Health Product

No Artificial Flavours/Colours

No Artificial Sweeteners

No Preservatives

Caffeine Free

Vegan

NSF Cert for Sport
Medicinal Ingredients
AMOUNT PER SERVING (7 G) SERVINGS PER CONTAINER 20 Calories 5 Fat 0 g Sodium 140 mg Potassium 30 mg Carbohydrate 1 g Sugars 0 g Protein 0 g % DAILY VALUE Calcium 2% Magnesium 2% Zinc 2% Medicinal Ingredients: L-Leucine (1202 mg), L-Glutamine (973 mg), L-Valine (544 mg), L-Isoleucine (544 mg), Glycine (460 mg), Taurine (135 mg), Potassium (32.5 mg), Calcium (AquaminTM) (11.8 mg), Magnesium (2 mg), Choline (300 mcg), Inositol (300 mcg), Thiamine (300 mcg), Niacin (300 mcg), Vitamin B6 (300 mcg), Riboflavin (300 mcg), Pantothenic acid (270 mcg), Zinc (160 mcg), Folate (7 mcg), Vitamin B12 (0.3 mcg), Biotin (0.3 mcg). 


NON-MEDICINAL INGREDIENTS:
Citric Acid, Natural Flavours, DL-Malic Acid, Purified Stevia Leaf Extract, Sodium Chloride, Sodium Citrate Dihydrate, Beet Root Powder, Spirulina platensis Extract, Lecithin.

Add To Wishlist