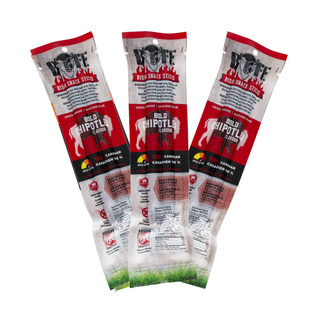 BUFF Bison Snack Sticks (Bold Chipotle), Grass-Fed Protein Snack, 3x50g
Created by a farming family in Ontario that fell in love with bison and wanted to come up with a way to share it with the world. Buff is an all natural, nutrient dense and super tasty alternative to the conventional meat snacks on the market.
Bison is a new, leading culinary trend, popular among today's health-conscious consumer. Buff is a healthy lifestyle brand that takes this ingredient to the next level by producing a nutritious, convenient, and delicious snack that you can take with you on the go.
Buff meat sticks are fermented, meaning they go through a slow and delicate process whereby natural, beneficial bacteria feed on the sugar and starch in the food, creating lactic acid. This creates beneficial enzymes, b-vitamins, omega-3, and probiotics. It also naturally preserves the food and naturally preserves the food without the need for artificial chemical preservatives.
Not your average jerky take buff with you to the gym, on a road trip, keep a pack in your office drawer, and send them with your kids for a healthy snack we fuel buff athletes, buff adventures and buff kids.
Ingredients: Bison, Beef, Water, Maple Syrup, Spices, Sea Salt, Alternate Cure (Cultured Celery Powder), Starter Culture, Natural Wood Smoke, Extra Virgin Olive Oil
Add To Wishlist