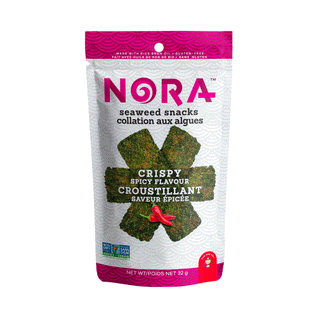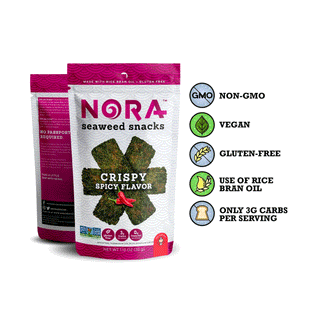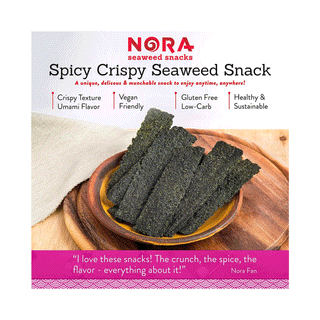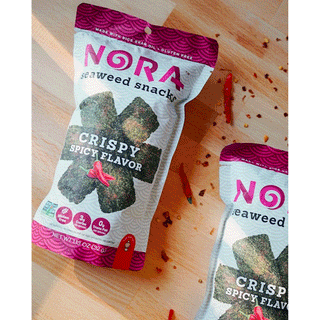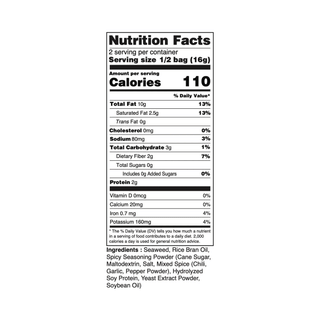 Nora Seaweed Snacks - Crispy Spicy, 32g
Bon Appétit said this snack puts all other seaweed snacks to shame!
Seaweed is one of the world's most sustainable crops: needs no fertilizers, no fresh water and removes CO2 from our oceans! On top of that, seaweed is also a great source of Iodine and B12 Vitamins!
A little spicy, a little salty and all delicious! NORA's spicy crispy seaweed chips will tickle your taste buds with their spice, and leave your tummy happy. It's garlicky, spicy and crunchy like your favourite potato chip--but it's low-carb and low-sodium. Light and crispy, this delicately satisfying snack is perfect for anyone looking to spice up their snacking game!
SEAWEED SNACK
Delicate but satisfying with a dose of heat, Nora Spicy Crispy Seaweed will send your tongue spinning. Crispy and crunchy like a potato chip, yet low-carb and gluten-free, Spicy Crispy Seaweed is the ultimate guilt-free snack with just 3g carbs per serving!


SUSHI ON-THE-GO
Sushi, and other Asian cuisines, have long been foodie-favourites, and now you can grab Nora Spicy Crispy Seaweed and enjoy that bold umami flavour on-the-go! Savour their light, crispy and flavourful vegan snack-you'll keep coming back for more!


HEALTHY & SUSTAINABLE SNACK
Did you know seaweed is one of the most nutrient dense vegetables on the planet, high in vitamins A, B6, and B12, as well as protein, iron, and fiber, and also one of the world's most sustainable crops? Vegan snack is fully renewable - and delicious!


PREMIUM INGREDIENTS
For thousands of years, Korean families have been harvesting seaweed, so they leave it to the experts! At Nora, they source their nori from farms in Korea, selecting only the finest, high-quality product available. Made with Rice Bran oil, a heart-healthy oil with 0g Trans-fat.
Ingredients: Seaweed, Rice Bran Oil, Spicy Seasoning Powder (Cane Sugar, Maltodextrin, Salt, Mixed Spice (Chili, Garlic, Pepper Powder), Hydrolyzed Soy Protein, Yeast Extract Powder, Soybeal Oil).
Add To Wishlist