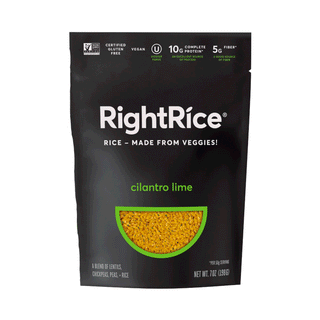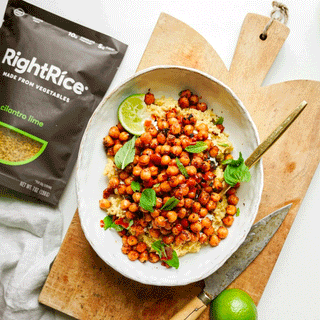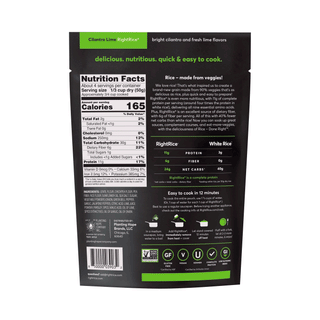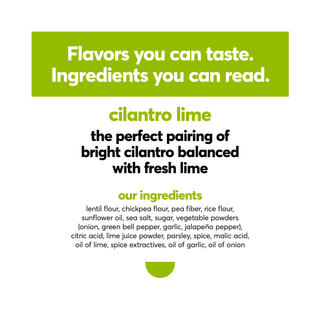 Right Rice Cliantro Lime Rice Made From Vegetables, 198g
Enjoy Cilantro Lime RightRice, the perfect pairing of bright cilantro with fresh lime.
We love rice. That's what inspired us to create a blend of over 90% nutritious vegetables + rice into a tasty grain that gives you more plant-based protein and fiber. Now you can soak up great sauces, complement courses, and inspire your next meal—all on a carb-friendly diet.
Ingredients: Lentil flour, chickpea flour, pea fiber, rice flour, sunflower oil, sea salt, sugar, vegetable powders (onion, green bell pepper, garlic, jalapeño pepper), citric acid, lime juice powder, parsley, spice, malic acid, oil of lime, spice extractives, oil of garlic, oil of onion
Vegan, Plant-Based, Gluten-Free, Kosher, Non-GMO, and Nut-Free.
RightRice products are made in peanut and tree-nut-free facilities, and our products are free from the nine major food allergens identified by the FALCPA: tree nuts, peanuts, wheat, soybeans, milk, eggs, fish, crustacean shellfish, and sesame, with the exception of Brown Butter Sage RightRice, which contains sesame.
Add To Wishlist