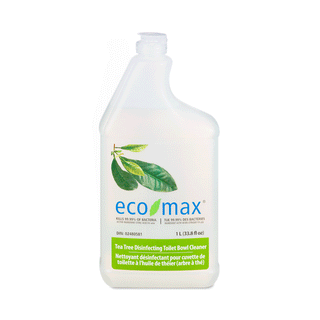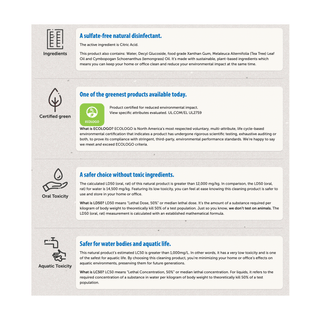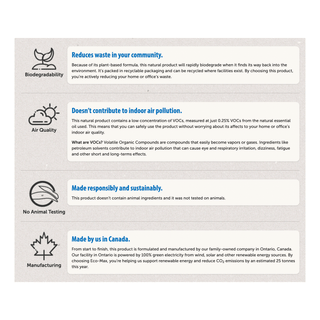 Eco-Max Natural Tea Tree Disinfecting Toilet Bowl Cleaner, 1L
This powerful, triple-action natural disinfecting toilet bowl cleaner is approved by Health Canada to kill up to 99.99% of household bacteria Salmonella Enterica and Staphylococcus Aureus. Scented with the natural oils from tea tree leaves and lemongrass, it will leave your bathroom smelling fresh as it works to clean, deodorize and disinfect. With its plant-based, sulfate-free formula disinfecting toilets is now safe and easy.
Looking for their original Natural Tree Tree Toilet Bowl Cleaner? This is the same cleaner you know and love, now approved to disinfect.
Directions
This natural disinfectant can be used on ceramic, porcelain and stainless-steel surfaces like toilet bowls, bath tubs, sinks, shower stall tiling and grout.
To clean and deodorize: apply to surface, scrub and wipe or rinse clean.
To disinfect: apply to surface, scrub and allow surface to remain wet for 10 minutes. Wipe or rinse clean. For best results on heavily soiled toilet bowls, preclean before disinfecting.
This natural cleaning product is one of the safest around. Even still, it's always best to keep cleaning products out of reach from children.
Ingredients
The active ingredient is Citric Acid.
This product also contains: Water, Decyl Glucoside, food grade Xanthan Gum, Melaleuca Alternifolia (Tea Tree) Leaf Oil and Cymbopogan Schoenanthus (lemongrass) Oil. 
Vegan-Friendly - This product doesn't contain animal ingredients and was not tested on animals.
This product is readily biodegradable and septic safe. It rapidly biodegrade when it finds its way back into the environment.
Add To Wishlist