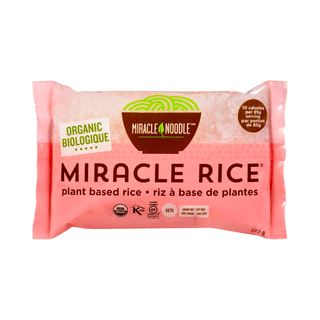 Miracle Noodle Organic Shirataki Rice Substitute, 198g
Use Miracle Noodle's Organic Rice as a rice substitute in rice and beans, rice pudding, or any of your favourite dishes that call for rice, immediately making it healthier.
Low calories, soy-free, gluten-free, cholesterol-free

Made with non-GMO ingredients



Cooking Instructions:
1) Open bag of rice into colander and rinse thoroughly with cool water for one minute.
2) Add to a non-oiled pan on medium heat until dry
3) Cook rice in your favourite sauce or recipe on a stovetop.
Ingredients: Water, Konjac Flour, and Citric Acid.
Add To Wishlist