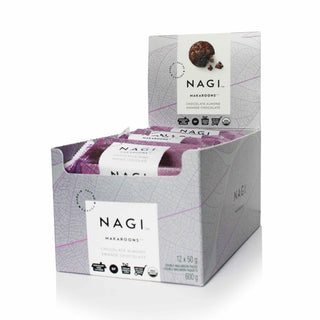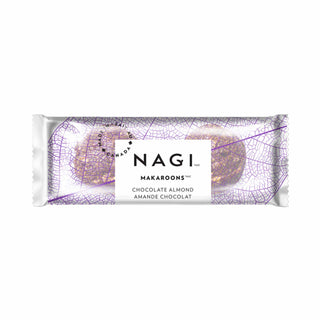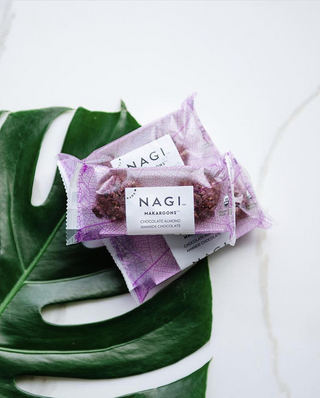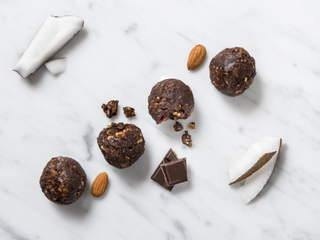 Nagi Makaroon Protein Snacks - Chocolate Almond, 12x50g
Ooohy-gooey chocolate goodness. Who doesn't love the taste of chocolate? Nagi Chocolate Almond Makaroons are a cheeky interpretation of the classic macaroon but just that little bit tastier and healthier with 10g protein and 6g of fiber for the full package (2 x 25g pieces).
They use the best quality organic cacao, cacao nibs, and organic blend of nuts and seeds to make this the perfect organic, plant-based, healthy snack without the sugar crash. Perfect as a guilt-free dessert, pre-/ post- workout, or a simple daily protein snack.
We promise! It's rich, chewy and totally satisfying. Perfect as a guilt-free treat or a simple daily protein snack, Try their nutritious, gluten-free, and protein-packed chocolate almond makaroons today!
In Polish, Nagi (Nā-gï) means naked.
They offer a selection of organic high protein energy bars and healthy snacks.
Made in Canada, their energy bars and healthy snacks are organic, non-gmo, vegan,
as well as gluten, soy, and dairy-free.
They produce delicious, nutritionally balanced, and organic treats for the whole family.
They only use the best superfood ingredients packed full of flavor, healthy fats, protein,
and totally gluten-free. No artificial flavours, no sugar alcohols, no refined sugars. 
Enjoy as a healthy snack between meals, when on the go, pre/post-workout or simply as a guilt-free treat.
Ingredients: Almonds*, Sunflower Seeds*, Coconut*, Golden Flax Seed*, Coconut Nectar*, Brown Rice Syrup*, Cocoa Powder*, Virgin Coconut Oil*, Chia*, Vanilla*, Sea Salt*. *Organic
Add To Wishlist