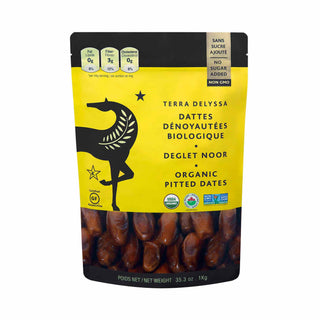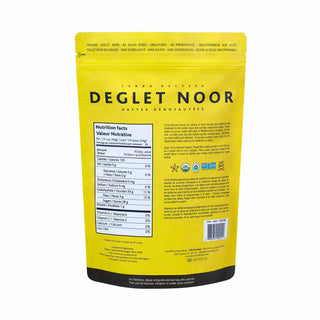 Terra Delyssa Organic Pitted Dates, 1kg
Terra Delyssa's Organic Deglet Noor dates are naturally sun dried under the Mediterranean sun. No added sugar, no preservatives, unsulfured and pitted making it one of the healthiest dates you can enjoy every day. Terra Delyssa Organic Deglet Noor Dates are high in fiber, keeping you feeling full longer. It is high in potassium, provides essential nutrients such as Vitamin B-6 and iron, and contains antioxidants. Enjoy Terra Delyssa Organic Deglet Noor Dates straight out of the bag as the perfect afternoon pick-me-up snack, as well as a healthy sugar alternative in your favourite brownie recipes, a sweet addition to granola, and in your morning shakes. Their moist, naturally caramel-like sweet flavour is sure to satisfy your sweet tooth without any sugar added.
Ingredients: Organic Natural Pitted Deglet Noor Dates.
Add To Wishlist