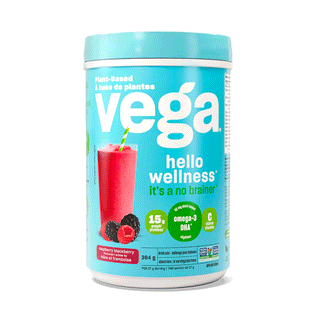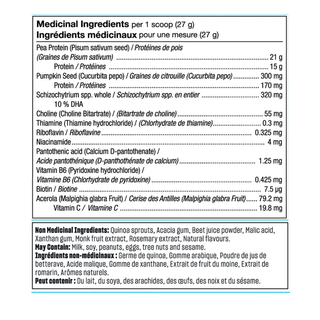 Vega Hello Wellness, It's A No Brainer - Blackberry Raspberry Plant Based Protein Powder, 384g
Hey, smartie. Get Omega-3 DHA and 15g of plant-based protein in every scoop, in a delicious raspberry blackberry flavour you won't be able to stop sipping.
How To Enjoy
Option 1: Mix up one scoop in 1-2 cups of ice-cold water or non-dairy beverage using a shaker cup until fully dissolved

Option 2: Add one scoop into your favourite smoothie recipe


Ingredients: Pea Protein (Pisum sativum seed) 21g, Pumpkin Seed (Cucurbita pepo) 300g, Schizochytrium spp. whole 320mg, Choline (Choline Bitartrate) 55mg, Thiamine (Thiamine hydrochloride) 0.3g, Riboflavin 0.325mg, Niacinamide 4mg, Pantothenic acid (Calcium D-Pantothenate) 1.25mg, Vitamin B6 0.425mg, Biotin 7.5mcg, Acerola (Malpighia glabra Fruit) 79.2mg, Vitamin C 19.8mg. Other Ingredients: Quinoa sprouts, Acacia gum, Beet juice powder, Malic acid, Xanthan gum, Monk fruit extract, Rosemary extract, Natural flavours.

Add To Wishlist