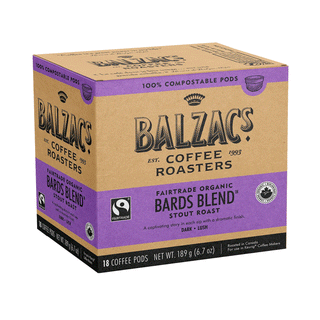 Balzac's Coffee Roasters Bard's Blend (Fair Trade Organic) - Dark Roast, 18 Pods (100% Compostable)
Inspired by the true bard himself, William Shakespeare, our Bards Blend is a captivating story in each sip with a dramatic finish. You probably noticed that we've switched from bags to cans for our ground coffee. Why? They're resealable (helps maintain freshness) and recyclable. Also, they look great!
Compatible for use with Keurig K-Cup Brewers and Keurig 2.0 Brewers.
Ingredients: 100% Arabica Coffee Beans.
Add To Wishlist