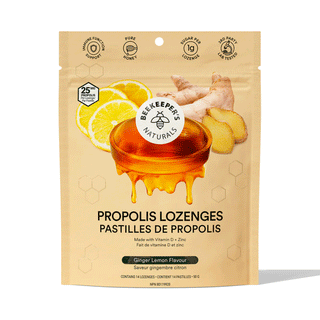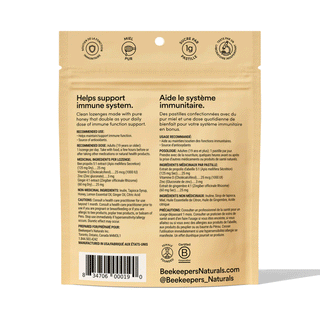 Beekeeper's Naturals Ginger Lemon Propolis Lozenges, 50g
These aren't your average cough drops. Each lozenge is formulated with liquid propolis, honey, and other nature-powered ingredients that soothe dry, scratchy throats and help support your immune system. Each drop contains only one gram of sugar— and they taste great, too. 
Recommended Dose
Take 1 lozenge as needed to soothe scratchy throats and give your immune system a pick-me-up.
MEDICINAL INGREDIENTS PER LOZENGE
Bee propolis 5:1 extract (Apis mellifera Secretion) (125 mg Dry) - 25 mg
Vitamin D (Cholecalciferol) - 25 mcg (1000 IU)
Zinc (Zinc gluconate) - 3 mg
Ginger 4:1 extract (Zingiber officinale Rhizome) (60 mg Dry) - 25 mg

NON-MEDICINAL INGREDIENTS
Inulin, Tapioca Syrup, Honey, Lemon Essential Oil, Ginger Oil, Citric Acid
Add To Wishlist