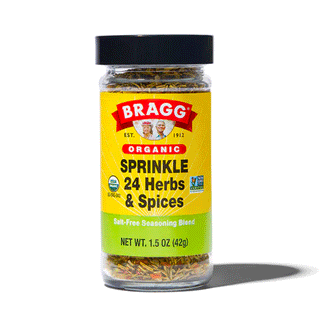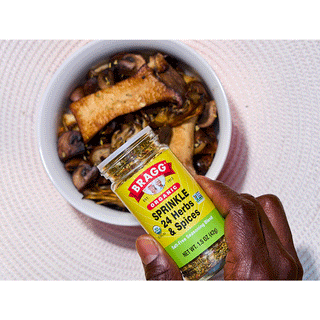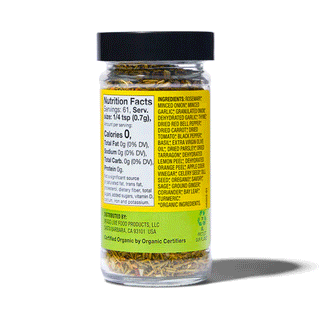 Bragg Organic Sprinkle Seasoning - 24 Herbs & Spices, 42g
Made with a special blend of 24 herbs and spices, Bragg® Organic Sprinkle is Paul C. Bragg's original 1930 seasoning mix. Sprinkle it on to spice up any dish.
Benefits
Specially blended from high-quality, pesticide-free ingredients like rosemary, onion, turmeric, and thyme, this salt-free kitchen staple enhances the flavour of your favourite recipes, meals, and snacks.
Salt-free and ideal for spicing up reduced sodium diets.

Made with NON-GMO and organic ingredients.

0 Sugar, 0 Calories, 0 Carbs
Ingredients: Organic Rosemary, Organic Minced Onion, Organic Minced Garlic, Organic Granulated Onion, Organic Dehydrated Garlic, Organic Thyme, Organic Dried Red Bell Pepper, Organic Dried Carrot, Organic Dried Tomato, Organic Black Pepper, Organic Basil, Organic Extra Virgin Olive Oil, Organic Dried Parsley, Organic Dried Tarragon, Organic Dehydrated Lemon Peel, Organic Dehydrated Orange Peel, Organic Apple Cider Vinegar, Organic Celery Seed, Organic Dill Seed, Organic Oregano, Organic Savory, Organic Sage, Organic Ground Ginger, Organic Coriander, Organic Bay Leaf, Organic Turmeric
Add To Wishlist