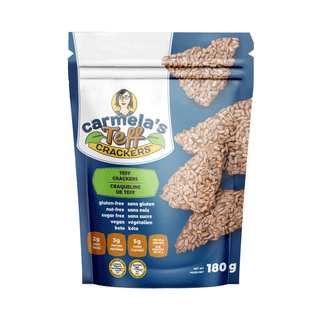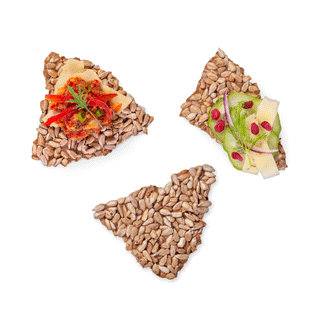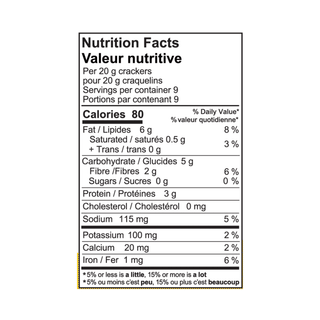 Carmela's Teff Crackers, 180g
Carmela's Teff Crackers are powered by the teff plant, originally cultivated in Africa for its edible seeds. Centred around the nutritional qualities of the ancient teff grain, I combined a special selection of ingredients to create a delicious, everyday snack cracker that offers a hearty, healthy, crispy crunch. Enjoy them on their own, or with your favourite toppings or spreads. Nothing goes to waste! Just sprinkle any leftover bits on your salad.
Thank you for eating responsibly—for your health and our planet.


"My passion is creating sustainably produced snacks that provide nutritional value while truly delighting the taste buds."


What is Teff?
This versatile grain—with a unique flavour—can be milled into teff flour through a process that makes it suitable for baking. 
The nutritious properties of the teff grain are well established. Not only is this fine grain gluten-free, it is naturally rich in protein and vitamins & minerals such as iron and calcium—making it a good food choice as part of a balanced diet.
Teff is also rich in its dietary fibre content—with much of its naturally occurring fibre type known as resistant starch, considered a good starch partly due to having fewer calories when compared to regular starch.
Ingredients: Water, Sunflower Seeds, Teff Flour, Ground Flax, Sorghum Four, Tapioca Starch, Sea Salt, Herbs.
Add To Wishlist