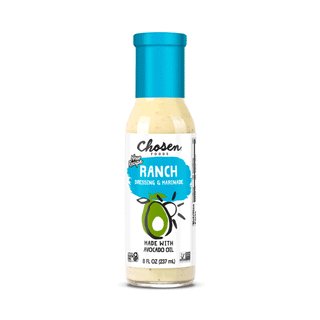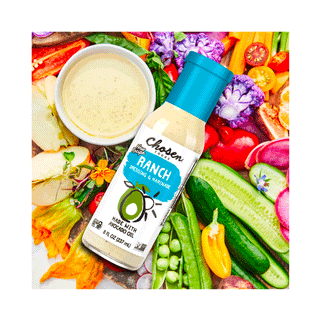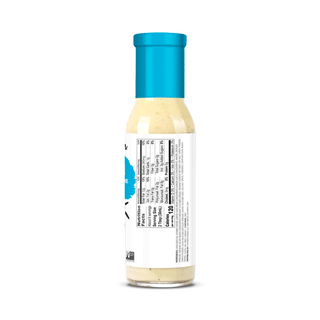 Chosen Foods Classic Ranch Dressing, 237ml
Avocado-Oil Based Ranch Dressing: Creamy, tangy, and classic. With vinegar, dijon mustard, lemon juice, spices, and a dash of sea salt, this must-have recipe is tied together in a beautiful base of pure avocado oil.
100% Pure: Chosen Foods Avocado-Oil Based Ranch Dressing is 100% avocado oil-based, never diluted, delicious, and full of good fats from avocados ripened to perfection.
Good Fats from Avocados: At Chosen Foods we are all-in on avocados! A wholesome, delicious superfood. Avocados are one of the world's most nourishing nutrient-packed foods, thanks to its antioxidants from Vitamin E and monosaturated fats.
Versatile: Toss with your favourite organic greens for an instantly delicious salad, dip your favourite veggies for a healthy snack, or use as a natural marinade on chicken, shrimp or tofu for an effortlessly healthy dinner.
Naturally Refined: Our avocado oil-based dressing is naturally refined and delicious with no added sugar for a healthy eating lifestyle, as well as low-carb and Keto friendly. Certified non-GMO, kosher, and gluten, dairy, soy and canola oil free.
Ingredients: Avocado oil, filtered water, lemon juice from concentrate (lemon juice concentrate, water), distilled vinegar, organic sour cream concentrate (organic cultured cream, organic nonfat dry milk), sea salt, garlic powder, onion powder, dijon mustard (distilled vinegar, water, mustard seed, sea salt, spices, turmeric), xanthan gum, black pepper, chives, dill weed, parsley.
Add To Wishlist