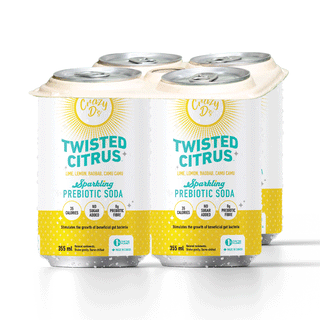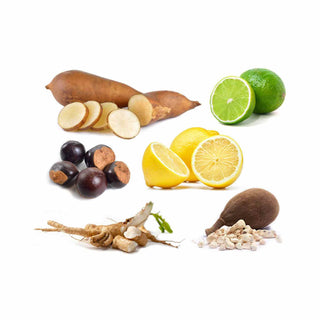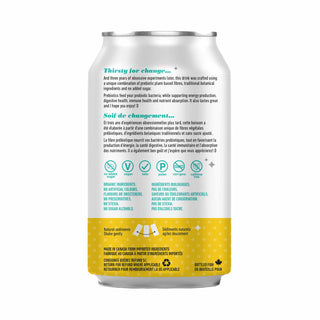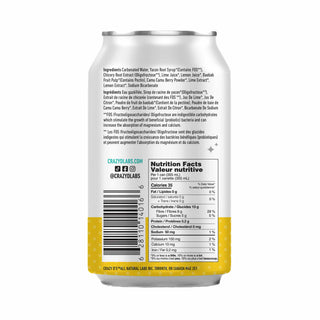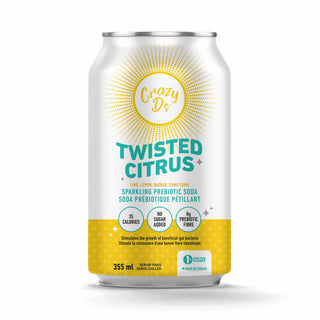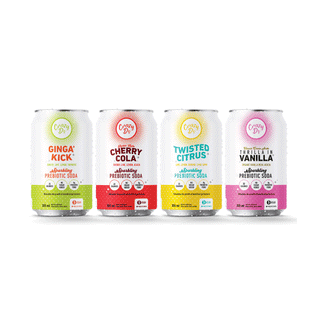 Crazy D's Twisted Citrus Sparkling Prebiotic, 4x355ml
Don't get it twisted, sister! This refreshing powerhouse of a drink is packed with real organic lemon and lime juices blended with Baobab Fruit and a hint of Camu Camu Berry. The result? A refreshing, one-of-a-kind healthy beverage with a citrus zip. Fresh and all-natural with a touch of sweetness from root veggies, Crazy D's sparkling prebiotic is straight-up delicious and good for you!
Twisted Citrus has 8g of prebiotic fibre with only 5g of naturally occurring sugars and 35 calories in each can. Tart and lightly carbonated, it's the perfect way to cool down and refuel. Try it — you and your gut will be glad you did.

Packaged with Eco-Rings: Plastic free, compostable and biodegradable rings made from up-cycled by-product! Toss them in the green bin!
Ingredients: Carbonated Water, Yacon Root Syrup*(Containing FOS**), Chicory Root Extract (Containing FOS**),Lime Juice*,Lemon Juice*, Baobab Fruit Powder* (Prebiotic), Camu Camu Berry Powder*,Lime Extract*,Lemon Extract*, Sodium Bicarbonate. *Certified Organic Ingredient.
**FOS/Fructooligosaccharides and Oligofructose are indigestible carbohydrates which stimulate the growth of beneficial (probiotic) bacteria and can increase the absorption of magnesium and calcium.
Add To Wishlist