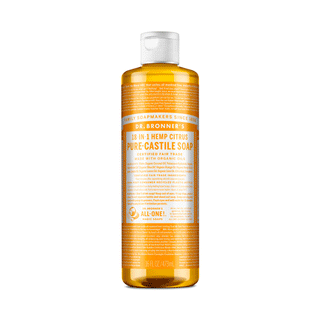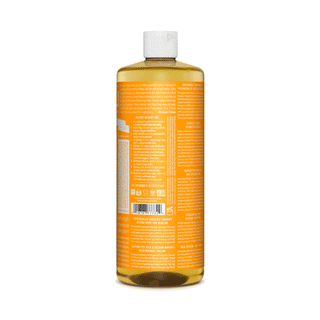 Dr. Bronner's Organic 18-In-1 Pure Castille Soap - Citrus, 473ml
The original! 18-in-1 uses! Dilute! Dilute! OK!!

Fresh and bright & with an invigorating blend of organic orange, lemon and lime oils! Dr. Bronner's Citrus Pure-Castile Liquid Soap is concentrated, biodegradable, versatile and effective. Made with organic and certified fair trade ingredients. Organic hemp oil is now sourced in the U.S. following hemp legalization! Packaged in a 100% post-consumer recycled bottle. All-One!
Dr. Bronner's 18-in-1 Pure-Castile Soaps are good for just about any cleaning task. Face, body, hair & dishes, laundry, mopping, pets—clean your house and body with no synthetic preservatives, detergents or foaming agents—none! 
Ingredients: Water, Organic Coconut Oil*, Potassium Hydroxide**, Organic Palm Kernel Oil*, Organic Olive Oil*, Organic Orange Oil, Organic Hemp Seed Oil, Organic Jojoba Oil, Organic Lemon Oil, Organic Lime Oil, Citric Acid, Tocopherol
*CERTIFIED FAIR TRADE INGREDIENTS
**None remains after saponifying oils into soap & glycerin.
Add To Wishlist