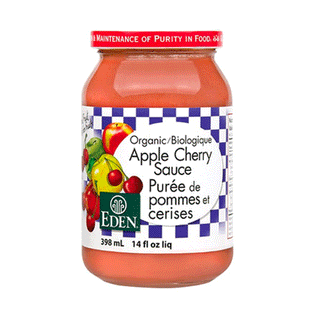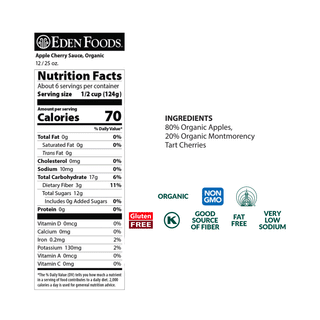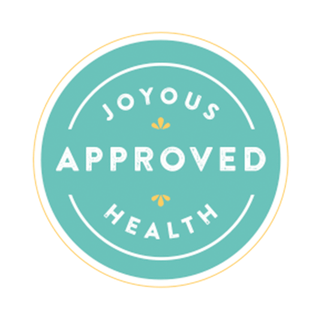 Eden Foods Organic Apple Cherry Sauce, 398ml
An Eden selected blend of family orchard Great Lakes organic apples and organic Montmorency Tart Cherry purée. 80% apple, 20% cherry. Sweet and mildly tart with no sugar or anything else added. A delicious, good for you dessert or snack anytime, anywhere. 

The apples and cherries in EDEN Cherry Apple Sauce are organically grown on family owned orchards on the shores of the Great Lakes, one of the best tree fruit growing locations in the world due to the seasonal 'lake effect'. After years of organic management, the healthy trees and soil in these beautiful orchards produce the most delicious fruit we have ever tasted.
EDEN Cherry Apple Sauce is made using traditional methods. Organic Montmorency tart cherries are washed, pitted and cooked into a thick puree up to 30 Brix. The Brix scale is a hydrometer scale for measuring the sugar content of a solution at a given temperature. A select blend of apples are hand sorted and washed, peeled and cored, and put through a mill where they are chopped and sliced. Next they are transferred to a stainless steel, steam injection cooker where they're cooked into sauce. The sauce is strained, blended with the organic cherry puree and packed in glass jars. 80 percent apple sauce and 20 percent tart cherry puree.
EDEN Organic Cherry Apple Sauce is fat free, cholesterol free, and very low sodium.
Ingredients: 80% Organic Apples, 20% Organic Montmorency Tart Cherries
Add To Wishlist