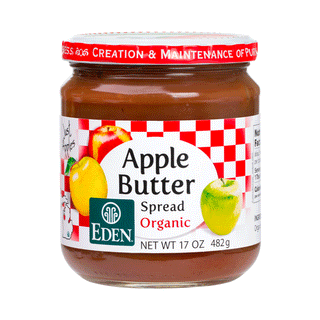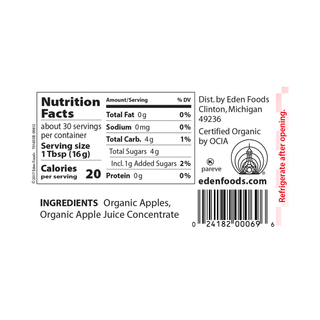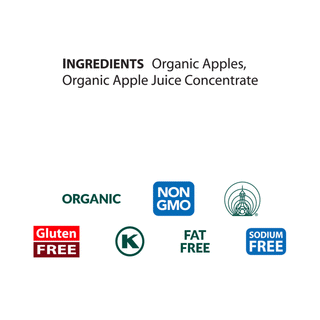 Eden Foods Organic Apple Butter Spread, 482g
A blend of family orchard Great Lakes' organic Apple varieties, over four pounds to a jar. Hand sorted, washed, peeled, cored, chopped, and slowly kettle simmered with a bit of organic apple juice concentrate to 30 Brix. A tangy sweet spread that makes healthy eating an easy pleasure with its versatility. No refined sugar or anything else ever added. 

The apples in EDEN Apple Butter are organically grown on family owned orchards on the shores of the Great Lakes, one of the best tree fruit growing locations in the world due to the seasonal lake effect. After years of organic management, the healthy trees and soil in these beautiful orchards produce the most delicious apples we have ever tasted.
Over four pounds of apples go into every jar of EDEN Organic Apple Butter. A carefully selected blend of apples are hand sorted, washed, peeled, cored and chopped. A small amount of our organic apple juice concentrate is added to the apples that are patiently steam jacketed kettle simmered until perfect. When finished the apple butter is packed in glass jars.
EDEN Organic Apple Butter is a tangy, sweet spread. A jar in your refrigerator makes it easy and fun to eat healthy food. Dollop it on oatmeal and cereal; spread it on toast, pancakes and waffles; use in batter for moist, flavourful baked goods. Use it instead of butter, jam, jelly or frosting. It is fat free and sodium free with no refined sugars.
Ingredients: Organic Apples, Organic Apple Juice Concentrate
Add To Wishlist