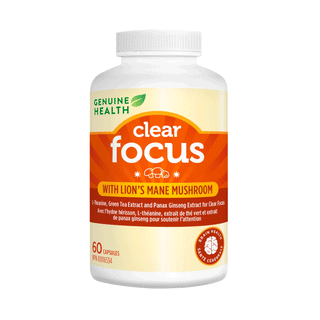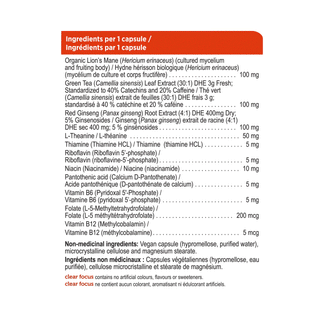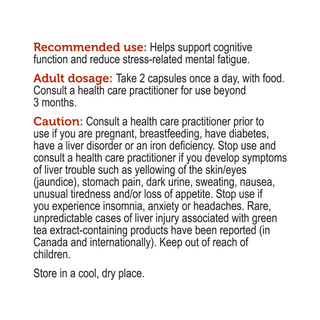 Genuine Health Clear Focus With Lion's Mane Mushroom, 60 Capsules
Do you often find yourself struggling to focus and get items checked off your to-do list? You're not alone. Brain fog and trouble focusing are common issues for a myriad of reasons including lack of sleep, stress, nutrient deficiencies, health issues and much more. That's why we formulated Clear Focus, to increase your concentration and memory so you can focus on what's important.

Made To Help You Focus On What's Important
Research shows that under times of increased stress and anxiety, our concentration and memory suffer. While there are some causes of mental fatigue that we can't control (like stress and brain fog), we created Clear Focus to help you focus on the stuff that's important to you.
Clear Focus gives you a calm focus, for when you need to tackle something that requires mental energy and concentration. It helps eliminate brain fog and mental fatigue in a non-jittery way, as well as supports brain health long term. Take Clear Focus so you can:
Feel calm

Improve your focus

Support cognitive function (like thinking and making decisions)

Increase concentration and attention

Reduce mental fatigue
Meet the Ingredients In Clear Focus
Clear Focus includes 5 hand-picked natural ingredients that work together to support your learning, memory, focus, attention, mood and resistance to stress.:
Lion's mane mushroom – supports brain health, boosts focus and improves mood.
Red ginseng a nootropic adaptogen that improves learning, memory, focus and resistance to stress.
Standardized green tea extract & L-theanine – works synergistically to support calm focus, attention and memory.
B-vitamin complex – supports stress and mitochondrial health for energy production.
Is Clear Focus Right For You?
Clear Focus is right for you if…
You're having trouble thinking clearly

You're jumping from task to task

You're finding it hard to get into a productive zone

Your mind is feeling overwhelmed

You're having difficulty remembering things that you normally would​

You want to invest in long term brain health
Free From Major Allergens and Non-Habit Forming
Clear Focus is free from soy, gluten, egg and dairy and is not habit-forming.
Helpful Tips & Directions
Recommended use: Helps support cognitive function and reduce stress-related mental fatigue.
Adult dosage: Take 2 capsules once a day, with food.

Consult a health care practitioner for use beyond 3 months.

Caution: Consult a health care practitioner prior to use if you are pregnant, breastfeeding, have diabetes, have a liver disorder or an iron deficiency. Stop use and consult a health care practitioner if you develop symptoms of liver trouble such as yellowing of the skin/eyes (jaundice), stomach pain, dark urine, sweating, nausea, unusual tiredness and/or loss of appetite. Stop use if you experience insomnia, anxiety or headaches. Rare, unpredictable cases of liver injury associated with green tea extract-containing products have been reported (in Canada and internationally).

Keep out of reach of children.

Store in a cool, dry place.
Add To Wishlist