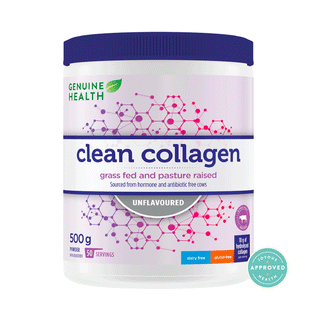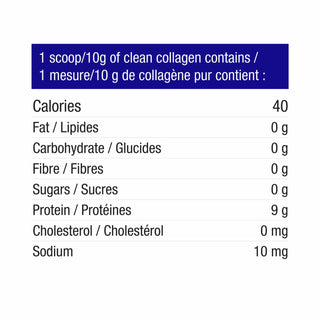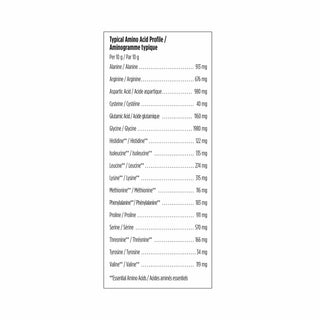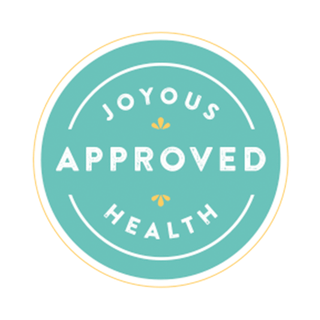 Genuine Health Collagen+, Unflavoured Hydrolyzed Bovine Collagen Powder, Grass Fed, 500g Tub
10 grams of pure hydrolyzed bovine collagen from grass-fed, pasture-raised, USDA cattle. Just one serving per day helps to protect against collagen loss to improve skin hydration, joint health, and so much more.
HYDROLYZED BOVINE COLLAGEN: Look and feel your best with our all natural collagen supplement that is made with collagen types 1 & 3 for easy absorption and contains 10 grams of pure hydrolyzed bovine collagen peptides per serving.
ESSENTIAL AMINO ACIDS TO PROMOTE OVERALL HEALTH: Formulated with 17 total amino acids, including lysine, that helps collagen formation and has many health benefits such as improving skin hydration, promoting joint health, and more!
HAIR, SKIN, NAIL AND JOINT SUPPORT: Supplementing with high-quality, Collagen+ can support healthy aging and skin hydration, strengthen hair and nails, support healthy joints and more! 
ALL NATURAL & GRASS FED COLLAGEN: Clean Collagen is sourced from pasture raised, grass-fed, USDA cattle that are raised without hormones or antibiotics. Gluten Free, Dairy Free, No artificial colors or flavors. Non GMO. Paleo & Keto Friendly.
REVERSE COLLAGEN LOSS WITH ONE SCOOP PER DAY: Includes (1) 280g Tub of Genuine Health Unflavored Clean Bovine Collagen Powder. Simply stir into hot or cold drinks like water, coffee, tea or smoothies, or add to any of your favorite recipes.
INGREDIENTS: HYDROLIZED COLLAGEN (BOVINE SKIN).
Consult a health care practitioner prior to use if you are pregnant or breastfeeding. May cause mild gastrointestinal disturbances.
Add To Wishlist