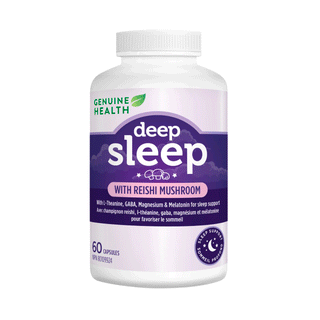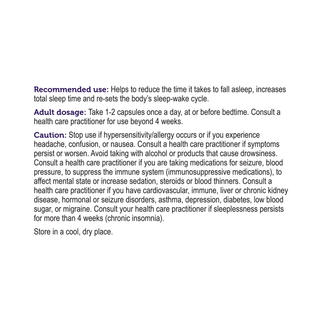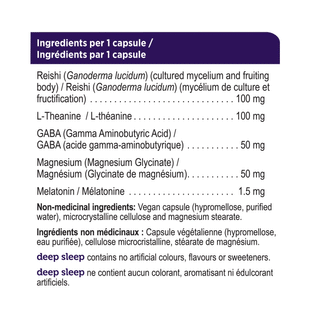 Genuine Health Deep Sleep With Reishi Mushroom, 60 Capsules
Getting a good night's sleep is the best thing you can do for your health. But meditation apps and eye masks can only take you so far, and often, the answer comes from within. Invest in a great sleep naturally with Deep Sleep supplement. Made to support a healthy sleep cycle from start to finish, Deep Sleep is made with naturally occurring ingredients to help you fall asleep quicker, stay asleep longer and wake up feeling refreshed – is there any other feeling you want to start your day? 
Made To Support A Healthy Sleep Cycle
At Genuine Health, they want you to sleep well so you can be at your best. Deep Sleep is a combination formula that doesn't just help you fall asleep quickly, it also helps you STAY ASLEEP throughout the night and promotes BETTER QUALITY sleep so you wake up feeling refreshed and rested. :
Promote relaxation before bed

Fall asleep quickly

Stay asleep longer

Wake up less frequently in the night

Reach deeper sleep in your sleep cycle

Wake up more refreshed and rested
Meet the Ingredients In Deep Sleep
Deep Sleep includes 5 hand-picked naturally occurring that support a healthy sleep cycle from start to finish. :
Reishi mushroom – a powerful adaptogenic mushroom proven to increase total sleep time and decrease the time it takes to fall asleep.
L-theanine (an amino acid found in green and black tea) and GABA (a neurotransmitter) that promotes relaxation and improves sleep quality.
Magnesium – a mineral that helps to promote relaxation and regulate neurotransmitters related to sleep.
Melatonin – a low dose to support and balance healthy circadian rhythms and improve the onset, duration and quality of sleep.
Is Deep Sleep Right For You
Deep Sleep is right for you if…
You have trouble winding down before bed​

You have trouble calming down your busy mind​

You have trouble falling asleep​

Your sleep is often disrupted (and you wake up many times throughout the night)

You're stressed / anxious and it's impacting your sleep​

You don't wake up feeling refreshed or rested

You feel like you've "hit a wall"​ during the day​

​You've recently travelled and need to reset your sleep cycle

​You're a shift worker
Free From Major Allergens and Non-Habit Forming
Deep Sleep is free from soy, gluten, egg and dairy and is not habit-forming.
Helpful Tips & Directions
Helps to reduce the time it takes to fall asleep, increases total sleep time and re-sets the body's sleep-wake cycle.

Adult Dosage: Take 1-2 capsules once a day, at or before bedtime.

Consult a health care practitioner for use beyond 4 weeks.

Stop use if hypersensitivity/allergy occurs. Stop use if allergy occurs or if you experience headache, confusion, or nausea. Consult a health care practitioner if symptoms persist or worsen. Avoid taking with alcohol or products that cause drowsiness. Consult a health care practitioner if you are taking medications for seizure, blood pressure, to suppress the immune system (immunosuppressive medications), to affect mental state or increase sedation, steroids or blood thinners. Consult a health care practitioner if you have cardiovascular, immune, liver or chronic kidney disease, hormonal or seizure disorders, asthma, depression, diabetes, low blood sugar, or migraine. Consult your health care practitioner if sleeplessness persists for more than 4 weeks (chronic insomnia).

Do not use if you are pregnant or breastfeeding.

Do not drive or use machinery for 5 hours after taking melatonin.

Store in a cool, dry place.
Add To Wishlist