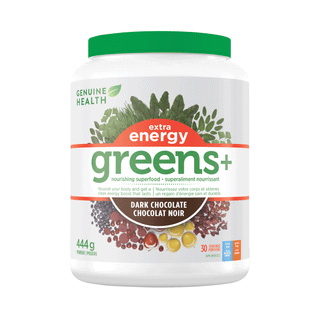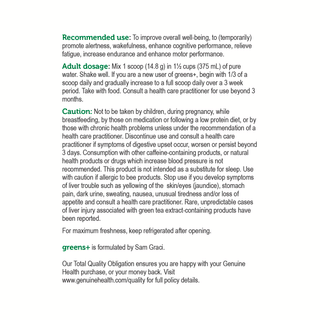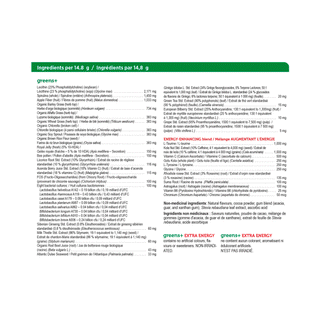 Genuine Health Greens+ Extra Energy - Dark Chocolate, 444g Tub, 30 Servings
Greens+ Extra Energy has been created to provide you with a clean, natural and steady boost of energy sourced from a synergistic blend of 11 energy-enhancing superfoods, including Japanese green tea extract and organic alfalfa leaf extract. Every scoop contains more phytonutrients than you could ever get in a regular diet, even if you eat lots of fruits and vegetables! in 1 convenient and delicious daily serving, Greens+ Extra Energy offers powerful vitamins, minerals, antioxidants and amino acids for energy, stamina and peak athletic performance, without a crash later.

Genuine Health's blend contains powerful vitamins, minerals, antioxidants and amino acids for immediate energy and stamina that lasts all day, whether you need a temporary afternoon boost or total pre-workout prep. Genuine Health Greens+ extra energy is designed to improve your overall well-being and promote alertness, wakefulness, cognitive & physical performance.
Enjoy Greens+ extra energy in their NEW, rich dark chocolate flavour, without any artificial flavours, colours or sweeteners. Gluten-Free & Dairy-Free. Plant-based, Keto & paleo-friendly.​
This rich and balanced mix of powerful plant-based phytonutrients and antioxidants from the base of the food chain have been specially selected to conveniently support the foundations for long-term optimal health, including more daily mental and physical vitality, stronger gut health and immunity, and reducing oxidative stress caused by free radicals.
Each scoop is filled with Japanese green tea extract, kola nut, astragalus, rhodiola rosea and gotu kola which provide 100mg of naturally occurring caffeine - the equivalent to 1 cup of coffee.​ To help you cover all your nutritional bases for less slumps in your day, our energizing formula also includes Vitamin C, Vitamin B6 and Chromium, plus amino acids such as Tyrosine and Glycine.
Genuine Health's formula has been backed by 9 Canadian studies and designed to offer additional targeted benefits including liver and brain health.
INGREDIENTS: LECITHIN, SPIRULINA CELLS, APPLE FRUIT, ORGANIC BARLEY GRASS, ORGANIC ALFALFA GRASS, ORGANIC WHEAT GRASS, CHLORELLA, ORGANIC SOY SPROUTS, ORGANIC WHOLE BROWN RICE KERNAL, ROYAL JELLY, BEE POLLEN, LICORICE ROOT EXTRACT, ACEROLA BERRY JUICE, FOS, LACTOBACILLUS HELVETICUS, LACTOBACILLUS RHAMNOSUS, LACTOBACILLUS CASEI, LACTOBACILLUS PLANTARUM, LACTOBACILLUS SALIVARIUS, BIFIDOBACTERIUM LONGUM, BIFIDOBACTERIUM BIFIDUM, BIFIDOBACTERIUM BREVE, SIBERIAN GINSING ROOT EXTRACT, MILK THISTLE SEED EXTRACT, ORGANIC RED BEET ROOT, ATLANTIC DULSE SEAWEED, GINKGO BILOBA L. LEAF EXTRACT, JAPANESE GREEN TEA LEAF EXTRACT, EUROPEAN BILBERRY EXTRACT, GRAPE EXTRACT, L-TAURINE, KOLA NUT SEED EXTRACT, VITAMIN C, GOTU KOLA HERB, L-TYROSENE, GLYCINE, RHODIOLA ROSEA ROOT EXTRACT, SUMA ROOT POWDER, ASTRAGALUS MEMRANACEUS ROOT POWDER, VITAMIN B6, CHROMIUM, STEVIA, NATURAL FLAVORS, COCOA POWDER, GUM BLEND (ACACIA, GUAR AND XANTHAN), ASCORBIC ACID. 
Not to be taken by children, during pregnancy, while breastfeeding, by those on medication or with chronic health problems unless under the recommendation of a health care practitioner. Consult a health care practitioner prior to use if you have nausea, fever, vomiting, bloody diarrhea or severe abdominal pain. Do not use if you have gastrointestinal blockage. Discontinue use and consult a health care practitioner if symptoms of digestive upset occur, persist or worsen beyond 3 days. Use with caution if allergic to bee products.
Add To Wishlist