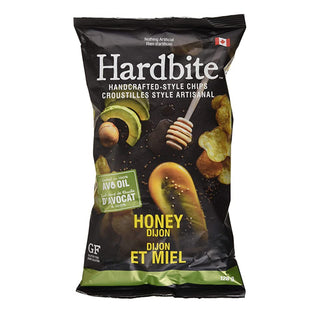 Hardbite Honey Dijon Avocado Oil Chips, 128g
Is your mouth watering? Ours is! A perfect blend of honey and Dijon mustard. Creamy with a hint of tanginess. It's a flavour experience like no other. Don't believe us? Give it a try! They use only the best potatoes, cooked in small batches using avocado oil and only the finest and most natural ingredients for a distinctively intriguing taste experience.

Ingredients: Potatoes, Avocado Oil, Sugars (Sugar, Honey Powder, Maltodextrin), Mustard Powder, Vinegar Powder, Onion Powder, Citric Acid, Garlic Powder, Spice Extractive, Spices, Natural Flavour. 
Add To Wishlist