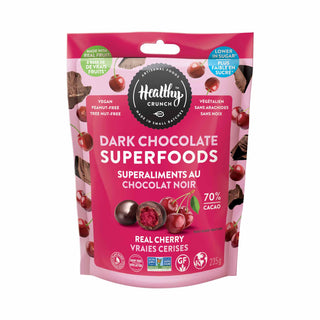 Healthy Crunch Dark Chocolate Superfoods - Real Cherry, 235g
Bursting with an intense cherry flavour, these real-fruit chocolate covered cherries are a snack you definitely want to add to your cart! Wrapped in a gleaming layer of 70% dark chocolate, these cherries are a great dairy-free and Certified Paleo option. Simple ingredients make for simple snacking and this product hits all the marks.
Whether you're looking for a healthier alternative or are just really into superfoods, these cherries will have your taste buds jumping for joy! Looking for a great and healthy snack for the kids to bring to school? Look no further! These chocolate covered treats are safe for school, being peanut free and tree nut free.
Product may contain pit.
Ingredients: 70% Dark Chocolate (Cocoa Paste, Cane Sugar, Cocoa Butter, Cocoa Powder), Cherry, Tapioca.
Add To Wishlist