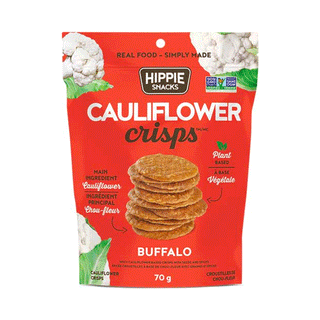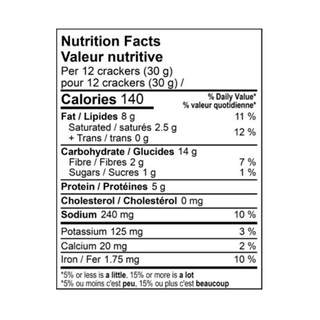 Hippie Snacks Buffalo Cauliflower Crisps, 70g
**Best Before September 28th, 2023**
We are temporarily offering this product at an additional discount in order to reduce food waste!
At Hippie Snacks they're all about keeping real foods in your diet which means they use as few steps in their manufacturing process as possible to keep the ingredients close to how nature intended. Seasoned with sea salt, seeds and herbs, these crisps give you all the roasted cauliflower flavour you crave, with the crunch you deserve. Now that's a real cauliflower snack!
Ingredients: CAULIFLOWER, PUMPKIN SEEDS, BROWN RICE FLOUR, TAPIOCA STARCH, COCONUT MILK POWDER (COCONUT MILK, MALTODEXTRIN), HEMP SEEDS, SESAME SEEDS, VINEGAR, PAPRIKA, ONION POWDER, SEA SALT, COCONUT FLOUR, GARLIC POWDER, MUSTARD FLOUR, CAYENNE PEPPER. CONTAINS: COCONUT, SESAME. MAY CONTAIN: SOY, OTHER TREE NUTS.
Add To Wishlist