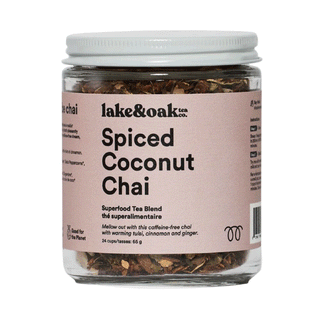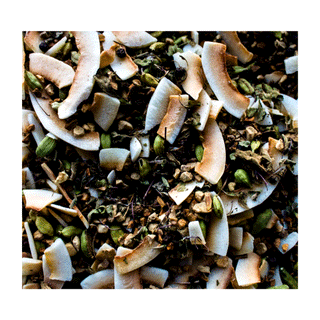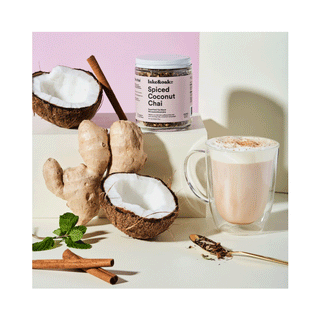 Lake & Oak Tea Co. Spiced Coconut Chai Superfood Tea Blend, 65g
SUPERFOOD TEA BLEND
The chai with it's own fan club. This comforting tea is rockin' superfoods tulsi, ginger and cinnamon, for a sip that's pleasantly spicy and sweet. Rooibos makes it a natural caffeine-free dream, great for mellowing out at any time of day.
100% ORGANIC - ADAPTOGENIC - NUTRITIONIST FORMULATED
caffeine free
How to Enjoy:
Steep tea in 1 cup of 98° water for 4-6 minutes. 

Try me with a splash of milk and honey. 

Tea Latte: Steep tea double strength and top with frothed milk, vanilla and sweetener. 
When to Steep:

A nourishing all day caffeine-free tea

To calm your nerves 

To soothe your stomach between meals

To boost immunity with superfoods

As a sugar-free treat before bed. 
Ingredients shown to help:
improve the body's ability to manage stress

reduce physical, mental, and emotional fatigue

elevate energy and mood

support healthy digestion and gut health

combat free radicals and support cellular regeneration
Exotic spices with a gentle sweetness from cinnamon and coconut.
Ingredients: Rooibos*, Cinnamon*, Ginger*, Tulsi*, Black Peppercorns*, Cardamom*, Coconut Chips*
Add To Wishlist