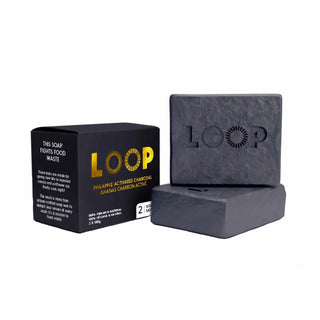 LOOP Pineapple Activated Charcoal Soap Bar, 2x100g
To make this soap, LOOP partnered with a vegan fast food chain to save their rejected organic sunflower oil and then added perfectly imperfect fruits. Might sound weird… until you try it. The result is more than a delightful soap that freshens you up before hitting the dance floor; it's a solution to food waste.
Ingredients: Upcycled Helianthus annuus (sunflower) oil, Organic Cocos Nucifera (coconut) oil, Ananas Sativus (pineapple) juice, Sodium hydroxide, Aqua (water), Cera Alba (beeswax), Charcoal powder, Ocimum basilicum (basil sweet) herb, Cymbopogon Flexuosus (lemongrass), Rosmarinus Officinalis (rosemary) leaf Essential Oils and Rosmarinus Officinalis (rosemary) leaf  extract.
Add To Wishlist