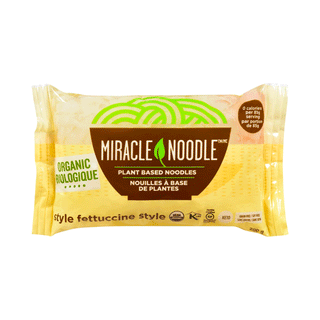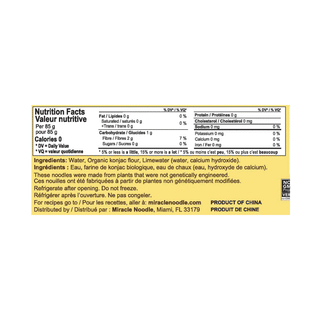 Miracle Noodle Organic Fettuccine Shirataki Noodles, 198g
Use Miracle Noodle's Organic Fettuccine as a fettuccine substitute in all of your recipes that involve a thicker noodles, from Asian dishes like soba noodles to a low carb fettuccine alfredo! Slashing calories and carbs has never been so delicious!!
Each serving of Miracle Noodle Angel Hair contains 5 calories and less than 3 grams of carbs. In fact, that small carb content is only from the fiber and citric acid that helps the noodles keep their shape. When you buy shirataki noodles from Miracle Noodle, you'll enjoy subscribe and save discounts plus free shipping. Learn how to boil angel hair pasta and more tips right here!
Low calories, soy-free, gluten-free, cholesterol-free

Made with non-GMO ingredients

Contains less than 3 grams of carbs per serving (only from fiber)
Cooking Instructions:
1) Open bag of noodles into colander and rinse thoroughly with cool water for one minute.
2) Cut noodles with a knife or kitchen sears (optional) and add to a non-oiled pan on medium heat until dry
3) Cook noodles in your favourite sauce or recipe on a stovetop or in microwave.
Ingredients: Water, Konjac Flour, and Citric Acid.
Add To Wishlist