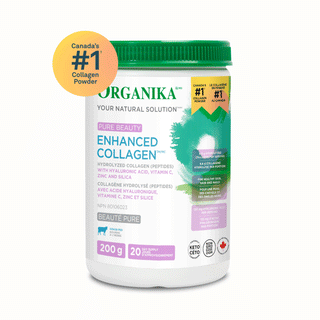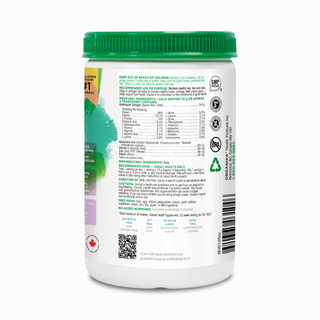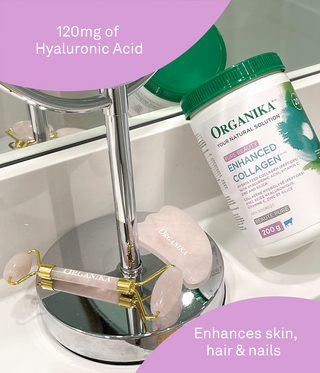 Organika Enhanced Collagen - Pure Beauty, 200g
The Ultimate Beauty Blend! Enhance your beauty regimen with Pure Beauty Enhanced Collagen— the ultimate beauty blend created with Canada's #1 Collagen Powder, Hyaluronic Acid, Vitamin C, Silica and Zinc.
Grass-fed hydrolyzed bovine collagen: Enhance the health of hair, skin, and nails with Canada's #1 Collagen Powder*. Sourced solely from pasture raised, antibiotic and hormone free cattle, our Pure Beauty Enhanced Collagen, is made with the same 100% pure hydrolyzed collagen as our Enhanced Collagen - Canada's #1 choice! It not only enhances the health of hair, skin and nails, but also provides gut support - a major influencer of skin health. 
Benefits:
9.6 g of Hydrolyzed Collagen per serving enhances hair, skin and nail health

120mg of Hyaluronic Acid acts as an internal moisturizer for skin tissues

60mg of Vitamin C promotes further collagen formation and in protecting the skin from UV and free radical damage

46mg of Zinc plays a role in collagen production, the inflammatory response, and wound healing

20mg of Silica strengthens hair, prevents hair loss, and supports health of skin and nails
Directions:
Recommended Dose – (Oral) Adults only: Take 1 serving (10g or approx. 4 tsp.) per day. Mix in half a cup or more of water or beverage of choice.
​
MEDICINAL INGREDIENTS:
Each serving (10 g / approx. 4 teaspoons) contains:
Hydrolyzed collagen (bovine skin/hide) 9.6 g
Hyaluronic Acid 120 mg
Vitamin C 60 mg
Zinc 46 mg
Silicon 20 mg


Add To Wishlist