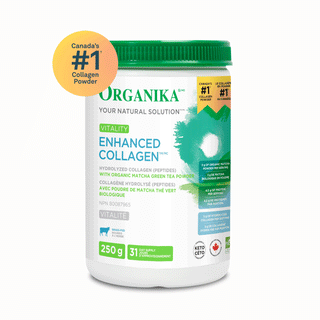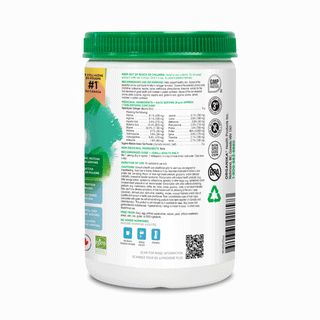 Organika Enhanced Collagen - Vitality - Hydrolyzed Collagen Blend with Organic Matcha, 250g
Organika's Enhanced Collagen Vitality is a source of essential amino acids (histidine, isoleucine, leucine, lysine, methionine, phenylalanine, threonine, valine) for the maintenance of good health and involved in protein synthesis. Source of the non-essential amino acids (alanine, arginine, aspartic acid, glutamic acid, glycine, proline, serine) involved in protein synthesis. Source of the essential amino acid lysine to help collagen formation. Helps support healthy skin. Helps (temporarily) to promote alertness and wakefulness, and to enhance cognitive performance. Helps (temporarily) to relieve fatigue, to promote endurance and to enhance motor performance. 
Features:

Grass-fed, Pasture-raised, Hydrolyzed collagen.

Antibiotic Free

Promotes "alert calm" due to natural caffeine and L-theanine content.

Jitter-free energy boost.

Mixes in cold or hot water instantly.
Recommended Dose- (Oral) Adult Only: Mix 8 g (~1 Tablespoon)  in a cup or more of hot / cold water. Take once a day. 
Duration of Use: For occasional use only. 
Medicinal Ingredients: Per tablespoon Contains: Hydrolyzed Collagen (Bovine Skin) 5 g, Organic Matcha Powder (Camellia sinensis)(Leaf) 3 g (Standardized to contain 3.25% Caffeine).
Non-Medicinal Ingredients: None
Add To Wishlist