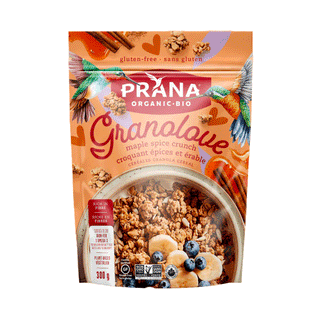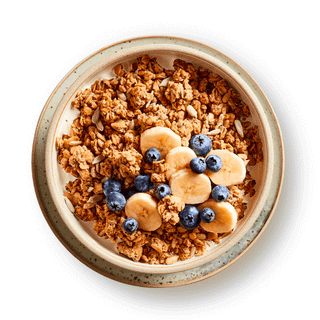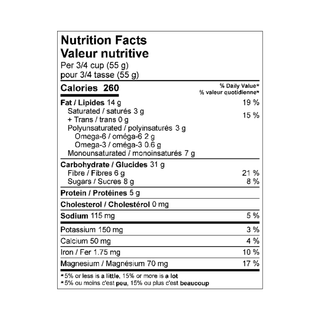 Prana GRANOLOVE Organic Maple Spice Crunch Granola, 300g
It's the granola you'd make... if you had time to make granola!

Light on sugar, rich in fibre, unconditional yum.

You'll fall for Prana's organic granola for its crunchy, satisfying texture and heartwarming maple spice taste.
Here are the deets
Baked with love in their Montreal goodness factory, Granolove is made from wholesome, organic ingredients including Canadian oats, chia and sunflower seeds, and elevated with a secret blend of spices and maple syrup (the real stuff!). 
Perfectly balanced in taste, it is just sweet enough to brighten up your day  (8g of sugar per serving) and become the perfect ally to your everyday breakfast routine (or mid-afternoon snack). What's more is that this oat-based granola is not only organic and vegan but also certified gluten-free! 
Prana's  organic granola boasts 7g of protein per portion, is rich in fiber and a source of iron and omega-3 polyunsaturated fatty acids. 
Oh and did you know that Prana is a family-owned certified B Corp since 2015? It means that the company and its founders recognize their responsibility towards the planet, the community their employees and partners, and are committed to producing in a responsible and durable manner. 
Really what's not to love about Granolove?
Enjoy it as is, with plant-based milk or yogurt, fresh fruits or even on top of ice cream (really why not?!).  
Ingredients: Gluten-free oats*, Sugars* (cane sugar*, maple syrup*), Sunflower oil*, Sunflower seeds*, Chia seeds*, Gluten-free oat flour*, Shredded coconut*, Puffed brown rice*, Spices*, Gum arabic*, Sea salt, Mixed tocopherols (added to preserve freshness).
May contain: Almonds, Brazil Nuts, Cashews, Hazelnuts, Pecans, Pistachios, Walnuts, Sesame, Soya.

Caution: Natural products may contain pit, shell, stem and other fragments.

Add To Wishlist