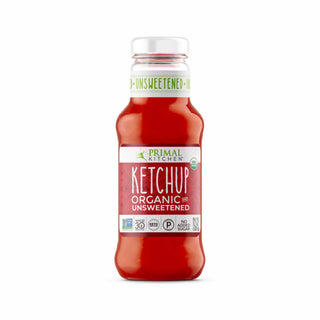 Primal Kitchen Organic Unsweetened Ketchup, 300ml
If you haven't heard about this unsweetened, organic, uncompromisingly delicious condiment yet, it's time to ketchup. PRIMAL KITCHEN Ketchup is full of the classic taste you remember, tidied up with high-quality ingredients... So go ahead, dress up hot dogs, hamburgers, fries, and more with this homestyle favourite!

Ingredients: Organic Tomato Concentrate, Organic Balsamic Vinegar, Less than 2% of Salt, Organic Onion Powder, Organic Garlic Powder, Organic Spices.
Add To Wishlist