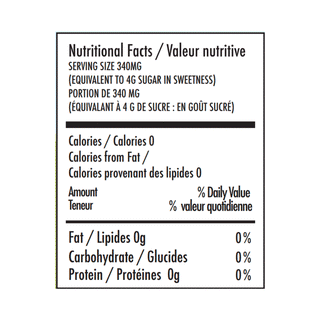 Sweet Monk Liquid Monk Fruit Natural Sweetener (Original), 50ml
The original liquid monk fruit sweetener. 100% natural, 100% zero calorie, 100% delicious. Add some sweetness to your favourite beverages, yogurt, smoothies and oatmeal. Approximately 150 servings per bottle. 
Not a fan of the aftertaste of most natural sweeteners? Or maybe they are not a fan of your upset stomach? Introducing SweetMonk! SweetMonk is a great-tasting, all natural, and zero calorie sweetener, made of 100% monk fruit extract! 
Monk fruit extract is created by removing the seeds and skin of the fruit and using a hot water extracting method to extract the "mogrosides," which contain all of the sweetness, but none of the fructose/glucose. Most people find that monk fruit doesn't have the aftertaste or upset stomach side effects of other sweeteners! Yay! You can carry it in your purse, laptop bag, stroller or keep it in your car!
Ingredients: Monk Fruit Extract
Add To Wishlist