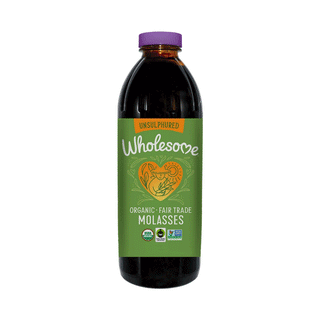 Wholesome Organic Fair Trade Molasses, 944ml
Dark in colour, Wholesome Organic Fair Trade Blackstrap Molasses offers a rich, full-bodied and robust flavour that perfectly complements gingerbread, cookies, bran muffins, chili, BBQ sauce and more.
Made with Care: Made during the initial phase of Wholesome's Organic Fair Trade Sugar production in Paraguay, this is a rich, full-bodied blackstrap molasses that's naturally gluten-free, vegan and kosher.
A terrific brown sugar substitute, blackstrap molasses is rich in nutrients, including Vitamin B6, Potassium, Calcium, Iron, and Magnesium.
Positive Impact: Wholesome Blackstrap Molasses is Fair Trade Certified, and Fair Trade premiums go directly to the farming communities that grow and harvest the sugarcane. These premiums help to provide education, healthcare, community infrastructure and more.
Ingredients: Fair Trade Organic Blackstrap Molasses
Add To Wishlist